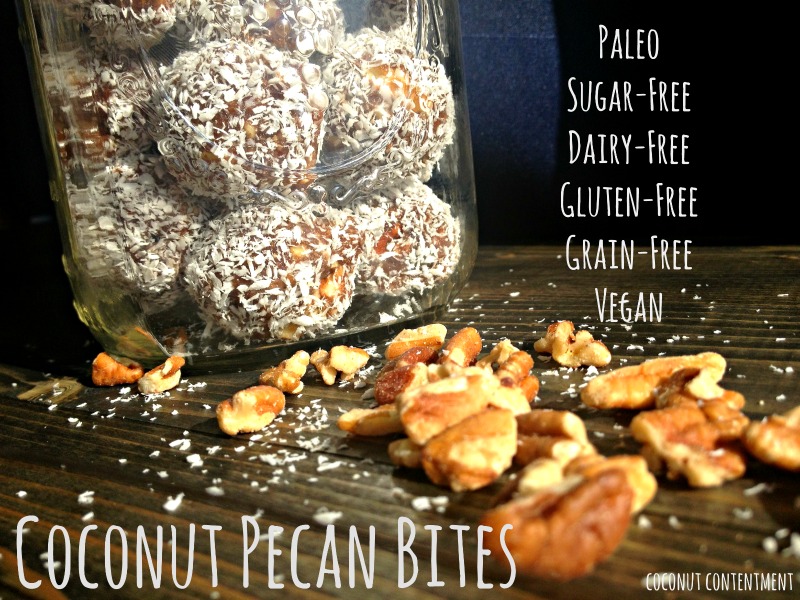 Coconut Pecan Bites
Super easy and quick, a snack or dessert, at home or on the go.  And of course- delicious and nutritious.  
To all those trying to avoid sugar after the holidays- these little Coconut Pecan Bites will be a perfect treat for you.
Ingredients:
1 packed cup of medjool dates
1/2 cup Walnuts
1 tbsp Coconut Oil
1/2 tsp Vanilla Extract
1/2 tsp Sea Salt
1 and 1/2 cup Pecans
1/2 to 1 cup Shredded Coconut (I used Let's Do Organic Reduced Fat– it's got way more crunch than the norm!)
Directions:
In a food processor, process the dates, walnuts, coconut oil, sea salt and vanilla extract until smooth. A ball will begin to form- break it apart as you go through each step.
Add 1 cup of the pecans. Process until it's evenly distributed in the mixture and in small pieces.
Add the remaining half cup of pecans, pulse a few times, until just evenly distributed, leaving the pecans in larger pieces.
Using a 1-in scooper, your hands, or a spoon, form 1 to 2 in. size balls.  Place on a parchment paper or other non-stick surface.
Place your shredded coconut in a small bowl and roll each bite around in the coconut.
Store in airtight container.
Enjoy 🙂